This standard is used to determine the ultraviolet protection factor (= UPF) of textiles and similar materials (e.g. protective films) in a new condition without real usage.
Clothing textiles
Similar materials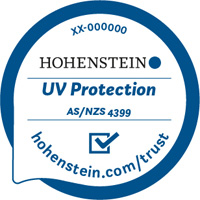 Your benefit as a customer
Consumer information with the specification of the UPF in its new condition
Material optimisation during development
Securing the product on the market
Clear product information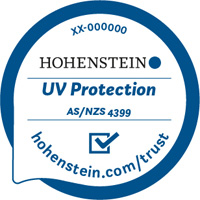 At Hohenstein, the UV protection is tested in the form of the UPF (=ultraviolet protection factor) of textiles. The UPF enables an assessment of the UV protection of textiles taking into account the spectral composition of sunlight and human skin sensitivity.
The test and certification criteria to determine the UPF are characterised as follows:
Test:
New, unstretched and dry materials are tested. The basis for this is the solar spectrum in Melbourne/Australia on the January 1st and, for the wearer, the most sensitive skin type.
In order to be able to name the complete standard for the entire product for advertising purposes, compliance with all further requirements is necessary, specifically point 4. Body Coverings and point 6. Labels. This is subject to an additional test by the manufacturer.
Certification:
The quality label may be issued on conclusion of a valid contract and adequate testing.
Classification is in the UPF levels 15, 30, 50 or 50+ and refers exclusively to the material test as per appendix A and point 5. Classification and labels.
Depending on the product, modifications are also possible, e.g. with regard to pretreatments.

Material testing and certification based on this standard is generally recognised as proof within the context of regulation (EU) 2016/425 on personal protective clothing. In addition the final product must meet all other requirements of the regulation, where applicable.