This test procedure determines the UV protection factor (UPF) of a textile that protects human skin from damaging UV rays. The UV protective textiles are tested in their new condition and after a simulation of strains and stresses occurring with use (practice).
The test is particularly suitable for
Textiles for swimwear or beachwear, especially for babies and children
Sports textiles and summer leisure clothing
Workwear / industrial garments for occupations subject to UV exposure
Shading textiles (e.g. parasols, awnings, beach shelters)
Other shading materials (e.g. protective films for windows)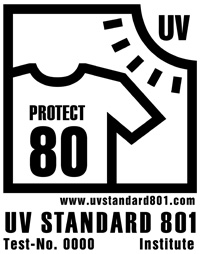 Your benefit as a customer
Consumer safety by UPF determination under use condition
Material optimisation during development
Securing the product on the market
Clear product information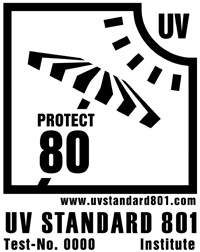 At Hohenstein, the UV protection is tested in the form of the UPF (=ultraviolet protection factor) of textiles using different standards. The UPF enables an assessment of the UV protection of textiles taking into account the spectral composition of sunlight and human skin sensitivity.
To reliably determine the UPF for the consumer, all factors that play a role in the use of the sun protection product must be taken into account.
The regulation UV STANDARD 801 is the only standard to take into account the particular demandsthat sun protective materials are exposed to during usage. It thus simulates the most stringent scenarios with conditions that are as realistic as possible.
The test and certification criteria to determine the UPF are characterised as follows:
A worst-case methodology:

maximum radiation intensity with the solar spectrum determined in
Melbourne, Australia, on January 1st (peak of the Australian summer)
most sensitive skin type
lowest UPF value as basis for further measurements within the programme
lowest UPF value from the programme to characterise the whole product


Validated measuring process for simulation of typical usage conditions:

moisture in clothing
weathering of shading textiles
ageing process
stretching the material
etc.
In the case of certification, body coverings are also taken into account to the extent that they adequately cover the areas typically exposed to the sun. Supplementary usage notes are recommended.
The determined UPF is used as a multiplier for the skin type-dependent self-protection time and specifies how long a person can effectively stay in the sun wearing the textile without damaging the skin. The following UV protection levels (UPF) can be achieved and displayed on the label in accordance with the UV STANDARD 801: 10, 15, 20, 30, 40, 60, 80.

All types of clothing and shading materials can be tested.
Please note that the certification application can only be processed in conjunction with the declaration of conformity!